Imagine that. Making money and not even leaving your couch. Don't believe me? Watch this space – I'm going to show you nine different ways to make $1000 in a month whilst never leaving your couch.
If you're one of the many people out there who are feeling like this, this one's for you.
It doesn't matter how hard you work, the money is never enough to make it to the end of the month
Your salary increases don't keep up with the rising costs of food and medical needs
Life happens! Unexpected expenses keep derailing your plans of getting ahead
There's never any money at the end of the month.
You're not eating take-aways or having cappuccinos you can't just 'cut them out' to save extra money. There's truly nothing to cut.
Or what if you're making it through the month – but are desperate to be able to save – for a family holiday, for a new car so you don't keep wasting money on the old – or start saving for your retirement?
This post is for you, baybeee!
But, as in most things to do with money, it comes down to one question: how much you want it? Are you prepared to give up your TV evenings? Or wake up an hour early? Or push through the inital stages of low take up to build followers and reviewers?
The secret to wealth…
It's said that dollar millionaires have over 7 different sources of wealth. Yip, they don't just have one salary. They have 7 different ways they make money. Some of them make them money whilst they sleep.
And that's where most of us go wrong. We only have 1: our job.
Three of the sources of wealth are:
Selling your time for money: it's pretty secure, but you are limited by 24 hours in the day
Selling a product: Once you've spent the time making it, you're able to sell it online while you sleep. Just one challenge: you've got to invest in marketing your product so people know about it and buy it
Investing: Here others do the work and you invest (e.g. in property, a company or shares)… and you definitely can make money while you sleep – but can also lose it if you invest in the wrong thing or at the wrong time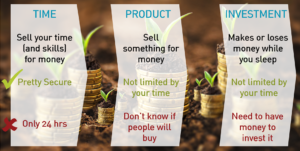 So I'm going to show you how make money sitting on your couch in the first two of those buckets: trading your time and selling a product.
9 ways to make money sitting on your couch
Trade time for money
Do online surveys. Yip, there are websites that pay you to take surveys. Makes sense given they're being paid by businesses to collect survey results. Try out Survey Junkie, Triaba, Vindale Research, Survey Club, Panel Place to name just a few. Some of these give you points you can redeem for goods such as Amazon gift vouchers. Some give you cash. Try it and see.
Proof read. For those of you with an eye for detail, this could be your gig. You earn roughly $0.35 per page, at 50 pages per hour = $17.50. That's R235 per hour. Try Upwork and FIVERR. There's also a course you can do which will give you all the ins and outs of entering this market – read here.
Test apps and websites. Userfeel.com pays you $10 per test which takes 15-20 minutes, so you can make $30-$40 per hour. Other sites are Analysia, TrymyUI, Whatusersdo or enrollapp.
Do Transcriptions or edit transcriptions. If you're a speedy typer, you can use transcribe me, transcribe.com or Way with Words to earn extra cash. They give you the technology to use too!
Design. The world belongs to the creatives! There are so many places you can do design work, the world's your oyster. Try 99Designs, FIVERR, Upwork to start.
Selling products
Sell other people's products (affiliate marketing). I love this form of selling – you don't need a product, you don't need the fulfillment or shipping engines, you just do the sales and marketing and have a unique link that when someone clicks on it they go to the seller's website and if they buy, you earn! The quickest example of it is by becoming an Amazon affiliate.
Drop Shipping. This is one step further than Amazon. Instead of just linking to a page on Amazon, the customer pays you and tells you their shipping address… which you then send to a product provider to ship. Most people start by doing this with AliExpress – an online chinese 'amazon' and then move to sourcing their own product providers.
Sell your smartphone photos. Apps like Foap, Scoopshot and Snapwire allow you to upload your photos and pay you if someone buys them. So all those amazing pics you have that are using up space on your phone can generate you some US Dollars.
Sell on Etsy. If photo taking isn't your thing, but making things with your hands is, Etsy is one of the world's largest craft sites. Their marketing page says they have low fees (they take just 3.5%), they have powerful tools to help you promote and grow your business, and they have a lot of educational support.
There's something for everybody. You just need to prioritise time. But just 1 hour per day could make you $1000 or over R13,000 per month extra.
TV…Cash…TV…Cash.
Just remember that for many of these side-gigs, you need to build ratings and reviews so you rank higher. Persist, ask others to rate you, it just takes time.
Download the Infographic cheat sheet that summarises all this, or buy the videos that will show you each of these ways for $4.97
Good luck, and here's to more wealth. xx